Headquarters
Activair s.r.o.
Ostravská 311/7
747 70 Opava-Komárov
Czech Republic



Tel:
+420 595 171 552

Fax:
+420 226 013 984
E-mail:
ID:
28605837

VAT:
CZ28605837
ID data:
3bngrkk

Branch Brno
Activair s.r.o.
Bohunická 728/24a
619 00 Brno - Horní Heršpice
Czech Republic



| | |
| --- | --- |
| Tel: | +420 545 210 455 |
| Fax: | +420 226 013 984 |
| E-mail: | |
Branch Praha
Activair s.r.o.
Novodvorská 803/82
142 00 Praha 4 – Lhotka
Czech Republic



| | |
| --- | --- |
| Tel: | +420 222 362 288 |
| Fax: | +420 226 013 984 |
| E-mail: | |
Slovakia
Activair SK s.r.o.
Cementarenska cesta 16
974 01 Banska Bystrica
Slovakia



| | |
| --- | --- |
| Tel: | +421 948 422 022 |
| Fax: | +420 226 013 984 |
| E-mail: | |
P-102 Cryocooler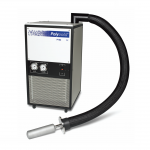 The Brooks Polycold® P-102 Cryocoolers provide compact, easy-to-use alternative to liquid nitrogen in small vacuum systems. These cryogenerators effectively eliminate the cost, inconvenience, and hazards associated with using liquid nitrogen — while delivering comparable performance.
The P-102 Cryocooler provides high-speed pumping of water vapor to the 10-8 Torr range while preventing backstreaming of vacuum-pump fluids. Featuring a patented single compressor refrigeration process that employs auto-refrigerating cycle cooling, this cryogenerator directly cools chevron baffles or probes to as low as -135°C using an HCFC-free refrigerant mixture in a closed loop system.
Key Features
Continuous cooling of cryosurfaces
Heat removal to 120 Watts
Vacuum system cold trap cooling
Mass spectrometer leak detector
Provides temperatures to -135°C
Fast, easy installation and maintenance
Rapid return on investment
P-102 Cryocoolers are CE marked to low voltage and EMC directives, and are compliant with European Application refrigerants EC/2037/2000, the Montreal Protocol and the US EPA SNAP.