Headquarters
Activair s.r.o.
Ostravská 311/7
747 70 Opava-Komárov
Czech Republic



Tel:
+420 595 171 552

Fax:
+420 226 013 984
E-mail:
ID:
28605837

VAT:
CZ28605837
ID data:
3bngrkk

Branch Brno
Activair s.r.o.
Bohunická 728/24a
619 00 Brno - Horní Heršpice
Czech Republic



| | |
| --- | --- |
| Tel: | +420 545 210 455 |
| Fax: | +420 226 013 984 |
| E-mail: | |
Branch Praha
Activair s.r.o.
Novodvorská 803/82
142 00 Praha 4 – Lhotka
Czech Republic



| | |
| --- | --- |
| Tel: | +420 222 362 288 |
| Fax: | +420 226 013 984 |
| E-mail: | |
Slovakia
Activair SK s.r.o.
Cementarenska cesta 16
974 01 Banska Bystrica
Slovakia



| | |
| --- | --- |
| Tel: | +421 948 422 022 |
| Fax: | +420 226 013 984 |
| E-mail: | |
Universal Liquid Withdrawal Device UPZ- 1 and UPZ - 4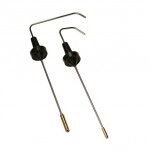 Non-powered universal equipment for LN2 containers with neck diameter up to 64 mm.
The length of discharging pipe can be adjusted to fit other containers (2 l - 50 l containers) with matching neck diameter.
Used for drawing 1,0 - 4,5 l of LN2 at a time - in dermatology, for laboratory tests, laboratory equipment replenishings.
Easy, safe manipulation - trouble-free operation.