Headquarters
Activair s.r.o.
Ostravská 311/7
747 70 Opava-Komárov
Czech Republic



Tel:
+420 595 171 552

Fax:
+420 226 013 984
E-mail:
ID:
28605837

VAT:
CZ28605837
ID data:
3bngrkk

Branch Brno
Activair s.r.o.
Bohunická 728/24a
619 00 Brno - Horní Heršpice
Czech Republic



| | |
| --- | --- |
| Tel: | +420 545 210 455 |
| Fax: | +420 226 013 984 |
| E-mail: | |
Branch Praha
Activair s.r.o.
Novodvorská 803/82
142 00 Praha 4 – Lhotka
Czech Republic



| | |
| --- | --- |
| Tel: | +420 222 362 288 |
| Fax: | +420 226 013 984 |
| E-mail: | |
Slovakia
Activair SK s.r.o.
Cementarenska cesta 16
974 01 Banska Bystrica
Slovakia



| | |
| --- | --- |
| Tel: | +421 948 422 022 |
| Fax: | +420 226 013 984 |
| E-mail: | |
KE225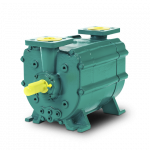 Features
The KE225 operates with a max. vacuum of 100 mbar and a max. pressure of 1.5 barg,
The max. capacity of the KE225 is 280 m3/h,
The KE225 pump is equipped with a fully welded stainless steel rotor and shaft seal, meeting the demands for continuous operation in rough areas and wet processes.
Benefits
Long life cycle,
Low maintenance costs,
Cost-effective performance,
Low noise emission.
| | |
| --- | --- |
| Technical data |   |
| Max. vacuum | 100 mbar |
| Max. pressure | 1.5 barg |
| Max. capacity | 280 m3/h |
| Weight (kg) | 85 |
| Sound pressure dB(A) | 70 |