Headquarters
Activair s.r.o.
Sadová 189/44
746 01 Opava-Predmesti
Czech Republic



Tel:
+420 595 171 552

Fax:
+420 226 013 984
E-mail:
ID:
28605837

VAT:
CZ28605837
ID data:
3bngrkk

Branch Brno
Activair s.r.o.
Marianske nam. 617/1
617 00 Brno
Czech Republic



| | |
| --- | --- |
| Tel: | +420 545 210 455 |
| Fax: | +420 226 013 984 |
| E-mail: | |
Branch Praha
Change of address!
Activair s.r.o.
Novodvorská 803/82
142 00 Praha 4 – Lhotka
Czech Republic



| | |
| --- | --- |
| Tel: | +420 222 362 288 |
| Fax: | +420 226 013 984 |
| E-mail: | |
Slovakia
Activair SK s.r.o.
Cementarenska cesta 16
974 01 Banska Bystrica
Slovakia



| | |
| --- | --- |
| Tel: | +421 948 422 022 |
| Fax: | +420 226 013 984 |
| E-mail: | |
BGV manual gate valve ISO63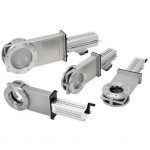 The BGV basement gate valves are a range of stainless steel, bellows-sealed basement isolation valves. They have been designed, in conjunction with VAT, to enable pumps to be kept running during foreline maintenance in order to maximise the reliability and up-time of pumps operating on harsh processes. The BGV valves are designed for an operating pressure range of 1 x 10
-9
mbar to 1.2 bar absolute (1 x 10
-7
to 1.2 x 10
5
Pa). The valves withstand 1.2 bar absolute in either direction and can tolerate against a 1 bar differential pressure across the valve seal.
Although principally designed for isolation of pumps in a semiconductor fab basement, the BGV valves are ideal for other applications where a 1 bar differential at opening is desirable and 20000 cycles is acceptable.
Features and Benefits
Jointly developed with VAT, a world leader in sealing technology.
Stainless steel construction and robust patented design for a long service life
Simple grease-free mechanism minimizes damage due to particulates in dusty processes
Can be operated with 1 bar pressure differential so pressure equalization is not required
Easy servicing with only inexpensive consumables for low cost of ownership
Smooth surfaces for easy cleaning
Available with solenoid fitted and wired for easy ordering and installation
Plug and play compatible with Edwards semiconductor dry pump when used with optional BGV TIM interface cable.
| | |
| --- | --- |
| Leak rate | |
| Body | < 1 x 10-9 mbar ls-1 |
| Valve seat | < 1 x 10-7 mbar ls-1 |
| Pressure range | 1 x 10-9 mbar to 1.2 bara |
| Differential pressure on the gate | 1.2 bar in either direction |
| Differential pressure at opening | 1 bar |
| Cycles until first service | 20, 0000 |
| Maximum operating temps | |
| Valve body | 120 °C |
| Manual actuator | 80 °C |
| Pneumatic actuator | 80 °C |
| Position indicator | 60 °C |
| Solenoid | 50 °C |
| Molecular flow conductance | |
| NW50 | 300 ls-1 |
| ISO63 | 400 ls-1 |
| ISO80 | 1100 ls-1 |
| ISO100 | 1700 ls-1 |
| ISO160 | 4600 ls-1 |
| Weight | |
| NW50 | 3.3 kg (7.3 lbs) |
| ISO63 | 6.6 kg (14.6 lbs) |
| ISO80 | 7.0 kg (15.4 lbs) |
| ISO100 | 8.5 kg (18.7 lbs) |
| ISO160 | 17.7 kg (39.0 lbs) |
| Materials of construction: | |
| Body | AISI 304 stainless steel |
| Bonnet | Black anodized aluminium |
| Gate | AISI 304 stainless steel |
| Gliders | PEEK |
| Bellows | AISI 633 stainless steel |
| Seals | Fluoroelastomer |
| Gate fixation screw | A2 stainless steel Ni-teflon coated |
| Handle | Reinforced polyamide |
| Manual Valves | |
| Turns of the handle to open/close | |
| NW50 | 22 |
| ISO63 | 27 |
| ISO80 | 33 |
| ISO100 | 39 |
| ISO160 | 41 |