Headquarters
Activair s.r.o.
Sadová 189/44
746 01 Opava-Predmesti
Czech Republic



Tel:
+420 595 171 552

Fax:
+420 226 013 984
E-mail:
ID:
28605837

VAT:
CZ28605837
ID data:
3bngrkk

Branch Brno
Activair s.r.o.
Marianske nam. 617/1
617 00 Brno
Czech Republic



| | |
| --- | --- |
| Tel: | +420 545 210 455 |
| Fax: | +420 226 013 984 |
| E-mail: | |
Branch Praha
Change of address!
Activair s.r.o.
Novodvorská 803/82
142 00 Praha 4 – Lhotka
Czech Republic



| | |
| --- | --- |
| Tel: | +420 222 362 288 |
| Fax: | +420 226 013 984 |
| E-mail: | |
Slovakia
Activair SK s.r.o.
Cementarenska cesta 16
974 01 Banska Bystrica
Slovakia



| | |
| --- | --- |
| Tel: | +421 948 422 022 |
| Fax: | +420 226 013 984 |
| E-mail: | |
Atlas TCS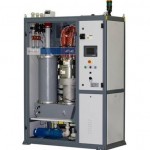 Effective exhaust management of CVD processes must be able to handle the deposition gases and the associated powders. The fluoride wastes from cleaning gases also require suitable treatment along with global warming gases. Abatement systems must be able to comply with these requirements in one complete unit. 
Features and Benefits
High performance, robust abatement

Capable of removing pyrophoric and acid gases to below TLV
Safe treatment of up to 20 slpm fluorine
Excellent powder handling capabilities

Low cost of ownership

Water recirculation for reduced water usage
Full tool interfacing for utilities conservation

OEM recommended
Maximized tool uptime

Low thermal mass facilitates rapid servicing
Field proven, corrosion-resistant design

Small footprint
Supported by global field service organisation
Third-party certification

SEMI S2, F15 certified, ETL Listed
Applications
The TCS is suitable for all CVD processes where PFC destruction is not required, but a need still exists for effective powder handling and hazardous air pollutant (HAP) abatement. 
CVD and remote plasma NF3 chamber cleaning
Technical data
 
Process connections
 
Process gas inlets
NW40 stainless steel
Bypass outlet
NW40 stainless steel
Abatement system exhaust outlet
75 mm diameter polypropylene
Cabinet extraction outlet
150 mm diameter x 150 mm deep, painted mild steel
Services connections
 
Nitrogen inlet
1/2 inch Swagelok, stainless steel
Oxygen inlet
1/4 inch Swagelok, stainless steel
Compressed dry air inlet
1/4 inch Swagelok, stainless steel
Fuel gas inlet
3/4 inch Swagelok, stainless steel
Cooling-water supply inlet
25 mm GF union, polypropylene
Cooling-water return outlet
25 mm GF union, polypropylene
Make-up water inlet
25 mm GF union, polypropylene
Acid water drain outlet
25 mm GF union, polypropylene
Electrical connections
 
Electrical supply cable leadthrough
32 mm cable-gland, suitable for 5-core double insulated cable
Customer interface cable leadthroughs
16 mm cable-glands
Customer interface connections
Screw terminals
Power Requirements
 
Supply
3-phase 400,220,208,200V, 50/60Hz
1-phase 100V, 50/60Hz
Nominal power requirements
1.3kW
Mechanical Data
 
Mass
530kg
 
101.5kg (WRU E Model)
 
103.5kg (WRU S J Models)