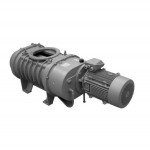 Explosion proof mechanical booster pumps are certified for use within potentially explosive atmospheres.

The EH500C mechanical booster pump has been certified for use in CSA Division 1 area Gas Class I Group C D and Dust Class II Group F G, Temperature Class T3C. The temperature classification of the pump is based on the outlet pressure of the pump being maintained below the critical backing pressure of 10 mbar (1 x 103 Pa) at zero flow.

The EH mechanical booster pump, based on the simple Roots principle, remains the favourite pump for applications where high pumping speeds are required for pressures in the region of 0.01 to 10 mbar. This pump must always be backed by another pump, which can deliver against a high-pressure differential to atmospheric pressure.

Operating at relatively low pressures, the mechanical booster pump is not exposed to the same concentrations of corrosive process media as is the backing pump, which makes it highly reliable.

Explosion proof mechanical booster pumps may be supplied with explosion proof motors individually or part of an explosion proof system. Please consult Edwards.