Headquarters
Activair s.r.o.
Ostravská 311/7
747 70 Opava-Komárov
Czech Republic



Tel:
+420 595 171 552

Fax:
+420 226 013 984
E-mail:
ID:
28605837

VAT:
CZ28605837
ID data:
3bngrkk

Branch Brno
Activair s.r.o.
Bohunická 728/24a
619 00 Brno - Horní Heršpice
Czech Republic



| | |
| --- | --- |
| Tel: | +420 545 210 455 |
| Fax: | +420 226 013 984 |
| E-mail: | |
Branch Praha
Activair s.r.o.
Novodvorská 803/82
142 00 Praha 4 – Lhotka
Czech Republic



| | |
| --- | --- |
| Tel: | +420 222 362 288 |
| Fax: | +420 226 013 984 |
| E-mail: | |
Slovakia
Activair SK s.r.o.
Cementarenska cesta 16
974 01 Banska Bystrica
Slovakia



| | |
| --- | --- |
| Tel: | +421 948 422 022 |
| Fax: | +420 226 013 984 |
| E-mail: | |
Controller TIC 6 Head RS232/RS485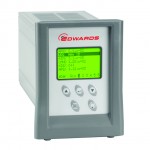 D39701000
The TIC Instrument Controller provides compact control with a large, clear graphical display, anintuitive user interface and serial communications. The supplied Windows™-based PC program provides full remote setup, control and data logging functions via the RS232 interface. 
 
Two TIC Instrument Controllers are available; the three head and six head versions can accommodate 3 or 6 active gauges.
Features and benefits
Automatically recognises and controls active gauges,
Six user configurable relay set-points,
Display of relay status,
One 0-10 V buffered analog output for each gauge channel,
Windows™ based PC program,
To enable complete integration into PC and PLC controlled processes all TIC variants include RS232 and RS485 interface.
Electrical data
Connector type
CEE/IEC 320
Electrical supply
90 to 264 V AC, 47 to 63 Hz
Power consumption

3 head TIC 55 VA

6 Head TIC 160 VA

Fuse
The unit is self-protecting and has no user replaceable fuse. The unit will recover once any overload is removed
Earth stud
M4
Operating and storage data
Ambient operating temperature range
0oC to 40oC (measured underneath TIC)
Maximum ambient operating humidity
Max 90% RH non-condensing at 40oC
Maximum operating altitude
3000 m max
IP rating
20
IEC rated pollution degree
2
Mechanical Data 
Weight
1.7 Kg
Interfaces
 
Analogue output
0-10 V DC – one for each gauge
Serial Interface
The TIC has two built-in communications protocols, RS232 and RS485.
These may be used either to interface to a PLC or, using the WindowsTM PC software package supplied, connected to a PC for full monitoring and control of a TIC system.
Set-points
6 set-point (open collector) rated at 24V DC 50 mA can be assigned to any gauge. Use directly or in conjunction with TIC relay boxes