Headquarters
Activair s.r.o.
Ostravská 311/7
747 70 Opava-Komárov
Czech Republic



Tel:
+420 595 171 552

Fax:
+420 226 013 984
E-mail:
ID:
28605837

VAT:
CZ28605837
ID data:
3bngrkk

Branch Brno
Activair s.r.o.
Bohunická 728/24a
619 00 Brno - Horní Heršpice
Czech Republic



| | |
| --- | --- |
| Tel: | +420 545 210 455 |
| Fax: | +420 226 013 984 |
| E-mail: | |
Branch Praha
Activair s.r.o.
Novodvorská 803/82
142 00 Praha 4 – Lhotka
Czech Republic



| | |
| --- | --- |
| Tel: | +420 222 362 288 |
| Fax: | +420 226 013 984 |
| E-mail: | |
Slovakia
Activair SK s.r.o.
Cementarenska cesta 16
974 01 Banska Bystrica
Slovakia



| | |
| --- | --- |
| Tel: | +421 948 422 022 |
| Fax: | +420 226 013 984 |
| E-mail: | |
Silicone 704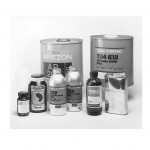 Features and Benefits
Silicone 704 is a Tetramethyltetraphenyltrisiloxane based fluid for producing high vacuums in the range 10-7 to 10-8 mbar. This fluids exhibits extreme chemical, thermal, oxidation, hydrolysis and radiation resistance. It also has extremely low back-streaming properties.
Applications
Silicone 704 is intended for use in particularly tough, rugged applications including vapour deposition of thin films by sputtering or evaporation, electron beam operations and high vacuum furnaces, melting, degassing and sintering, refractory metals and thick film deposition.
It is also suitable for all aspects of vacuum coating such as optics and automotive components and the UHV characteristics are particularly useful for thin film, surface technology, thermonuclear and plasma physics applications.
| | |
| --- | --- |
| Technical data |   |
| Typical ultimate vacuum achievable at 20°C (mbar) | 8.0 x 10-9 |
| Vapour pressure @ 25°C (mbar) | 1 x 10-9 |
| Boiling temperature at 1.3 mbar (°C) (approx) | 215 |
| Viscosity cSt @ 25°C | 37 - 42 |
| Pour point °C | -34 |
| Flash point °C | >210 |
| Specific gravity at 25°C | 1.06 - 1.07 |