Headquarters
Activair s.r.o.
Ostravská 311/7
747 70 Opava-Komárov
Czech Republic



Tel:
+420 595 171 552

Fax:
+420 226 013 984
E-mail:
ID:
28605837

VAT:
CZ28605837
ID data:
3bngrkk

Branch Brno
Activair s.r.o.
Bohunická 728/24a
619 00 Brno - Horní Heršpice
Czech Republic



| | |
| --- | --- |
| Tel: | +420 545 210 455 |
| Fax: | +420 226 013 984 |
| E-mail: | |
Branch Praha
Activair s.r.o.
Novodvorská 803/82
142 00 Praha 4 – Lhotka
Czech Republic



| | |
| --- | --- |
| Tel: | +420 222 362 288 |
| Fax: | +420 226 013 984 |
| E-mail: | |
Slovakia
Activair SK s.r.o.
Cementarenska cesta 16
974 01 Banska Bystrica
Slovakia



| | |
| --- | --- |
| Tel: | +421 948 422 022 |
| Fax: | +420 226 013 984 |
| E-mail: | |
TIC Relay Box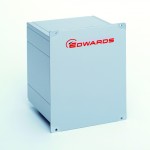 Features and Benefits
Enables TIC to control mains backing pumps, up to and including XDS10 and RV12.
Provides interfaces for a turbo heater band, a backing line isolation valve and a logic bypass. All relay boxes include a logic bypass facility for further system integration.
TIC relay is packaged in a compact case and may be panel or rack or bench mounted.
TIC relay will operate from mains supplies with voltages up to 240 V a.c.
Technical data
 
Mains input
CEE/IEC230 inlet
Max rating
240V a.c.
Earth stud
M4
Heater band outlet
 
Connector type
CEE/IEC320 inlet
Max rating
240 V a.c. 1A
Fuse

20 mm x 5 mm, 250V

1A type F

Backing pump outlet
 
Connector type
CEE/IEC320 inlet
Max rating

20 mm x 5 mm, 250V

10A type T

Setpoint connector
 
Connector type
12-way positronic PLC plug
Max rating
250V a.c. 3A (resistive) Dry non conducting atmosphere only or 30V d.c. 3A (resistive)
Mating half (supplied)
12-way positronic PLC socked with hood
Backing line isolation valve connector
 
Connector type
3-way DIN socket
Max rating
24V d.c. 0.5A
Lead type
3 core 0,5mm2
Weight
695g
Operating temperature
+0°C to +40°C
Storage temperature
-30°C to +70°C
Max ambient operating humidity
90% RH non-condensing at 40°C
Max operating altitude
3000m
Electronic design
EN61010-1
Enclosure rating
IP20