Headquarters
Activair s.r.o.
Ostravská 311/7
747 70 Opava-Komárov
Czech Republic



Tel:
+420 595 171 552

Fax:
+420 226 013 984
E-mail:
ID:
28605837

VAT:
CZ28605837
ID data:
3bngrkk

Branch Brno
Activair s.r.o.
Bohunická 728/24a
619 00 Brno - Horní Heršpice
Czech Republic



| | |
| --- | --- |
| Tel: | +420 545 210 455 |
| Fax: | +420 226 013 984 |
| E-mail: | |
Branch Praha
Activair s.r.o.
Novodvorská 803/82
142 00 Praha 4 – Lhotka
Czech Republic



| | |
| --- | --- |
| Tel: | +420 222 362 288 |
| Fax: | +420 226 013 984 |
| E-mail: | |
Slovakia
Activair SK s.r.o.
Cementarenska cesta 16
974 01 Banska Bystrica
Slovakia



| | |
| --- | --- |
| Tel: | +421 948 422 022 |
| Fax: | +420 226 013 984 |
| E-mail: | |
Ultragrade 20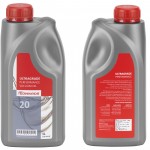 Ultragrade® 15, 19, 20 and 70, which result from a new process. Most manufacturers use a solvent refining process, whereas these oils are produced by a unique hydrotreating process. This process eliminates nitrogen, sulphur and oxygen and the aromatic hydrocarbons, leaving a clear base stock essentially free of impurities.
Features and Benefits
When combined with additives, the Ultragrade® oils give improved vacuum performance, thermal and oxidation stability and rust inhibition.
The anti-oxidants included in the oils enable the pump to withstand high operating temperatures without oil degradation, so extending intervals between oil changes.
The properties of the oils allow them to be used in a wide range of applications.
Applications
Mass spectrometers
Leak detection
TV tubes
Power valves
Distillation
Furnaces
Impregnation
Chemical pumping
Packaging
Mechanical booster
| | |
| --- | --- |
| Technical data |   |
| Vapour pressure mbar: |   |
| 20°C | 2.1 x 10-7 |
| 100°C | 3.0 x 10-3 |
| Molecular weight | 500 |
| Specific gravity at 15°C | 0.86 |
| Viscosity cSt: |   |
| at 20°C | 352 |
| at 40°C | 103 |
| Pour point °C | -12 |
| Flash point °C | 260 |
| Auto ignition point °C | 365 |
| Sulphur content % mass/mass | 0 |