Headquarters
Activair s.r.o.
Ostravská 311/7
747 70 Opava-Komárov
Czech Republic



Tel:
+420 595 171 552

Fax:
+420 226 013 984
E-mail:
ID:
28605837

VAT:
CZ28605837
ID data:
3bngrkk

Branch Brno
Activair s.r.o.
Bohunická 728/24a
619 00 Brno - Horní Heršpice
Czech Republic



| | |
| --- | --- |
| Tel: | +420 545 210 455 |
| Fax: | +420 226 013 984 |
| E-mail: | |
Branch Praha
Activair s.r.o.
Novodvorská 803/82
142 00 Praha 4 – Lhotka
Czech Republic



| | |
| --- | --- |
| Tel: | +420 222 362 288 |
| Fax: | +420 226 013 984 |
| E-mail: | |
Slovakia
Activair SK s.r.o.
Cementarenska cesta 16
974 01 Banska Bystrica
Slovakia



| | |
| --- | --- |
| Tel: | +421 948 422 022 |
| Fax: | +420 226 013 984 |
| E-mail: | |
Inline 250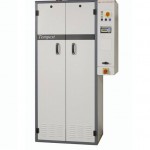 The Inline 250 uses two high capacity cartridges inline, which maximizes the use of cartridge reagent and boosts the capacity of Inline 250 by 150% compared to the M150.
 
The technology used in the Inline 250 has been proven to give the highest abatement performance of any dry technology for etch.
 
The high temperature treatment gives permanent gas destruction and removal of halogens, acid gases and other halide etch components. It safely treats toxic organochloride by-products frequently exhausted from etch tools.


Features and Benefits
Safest treatment by chemical reaction to stable inert salts
Widest range of gases treated, from halogens and acids to ClF3, NF3, C4F8, SF6 etc.
No desorption risks, unique to high temperature systems
No toxic wastes
100% uptime with auto changeover
Continuous abatement even in power failure
Integral heated inlet piping (option)Low energy, low utility requirements
| | |
| --- | --- |
| Technical data |   |
| Connections |   |
| Inlet | NW40 |
|   | 4 alternative positions |
| Outlet | NW40 |
|   | 4 alternative positions |
| Cabinet Extract | 160mm |
|   | 2-3 alternative postions |
|   | 500m3 / hr |
| Nitrogen Outlet | 1/4" Swagelok ® |
|   | 4-5 bar gauge |
| Power Requirements |   |
| Three phase supply | 380 / 415 3ph 50Hz |
|   | 208v 60Hz |
|   | 200v 50 / 60Hz |
| Mechanical Data |   |
| Mass | 444kg |