Headquarters
Activair s.r.o.
Ostravská 311/7
747 70 Opava-Komárov
Czech Republic



Tel:
+420 595 171 552

Fax:
+420 226 013 984
E-mail:
ID:
28605837

VAT:
CZ28605837
ID data:
3bngrkk

Branch Brno
Activair s.r.o.
Bohunická 728/24a
619 00 Brno - Horní Heršpice
Czech Republic



| | |
| --- | --- |
| Tel: | +420 545 210 455 |
| Fax: | +420 226 013 984 |
| E-mail: | |
Branch Praha
Activair s.r.o.
Novodvorská 803/82
142 00 Praha 4 – Lhotka
Czech Republic



| | |
| --- | --- |
| Tel: | +420 222 362 288 |
| Fax: | +420 226 013 984 |
| E-mail: | |
Slovakia
Activair SK s.r.o.
Cementarenska cesta 16
974 01 Banska Bystrica
Slovakia



| | |
| --- | --- |
| Tel: | +421 948 422 022 |
| Fax: | +420 226 013 984 |
| E-mail: | |
DL™ Shields System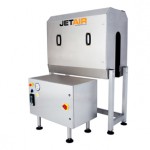 The DL™ is a high quality cost-effective blow-off solution for moderate to high-speed lines. DL™s are used for many upgrade applications as well applications where drainage is not critical.
Features
Construction Material Options: Stainless Steel 304 or 316. Complete interior access for easy installation and cleaning.
Configurations: Line Lengths 18"[460] - 72"[1,830M]; W: 1"[25mm] - 8"[400mm]; H: 24"[610mm] - 60"[1,525M]
Spray Containment (Drain Optional)
Noise Reduction: 4-6dBA
Self-Support Air Components (see Air Knives) includes JetSet™ Changeover System (fast rail-air knife adjustment).
DL™ Shield Systems can be paired with Enclosure36™s Blower & Electrical Enclosures for a complete on line solution.