Headquarters
Activair s.r.o.
Ostravská 311/7
747 70 Opava-Komárov
Czech Republic



Tel:
+420 595 171 552

Fax:
+420 226 013 984
E-mail:
ID:
28605837

VAT:
CZ28605837
ID data:
3bngrkk

Branch Brno
Activair s.r.o.
Bohunická 728/24a
619 00 Brno - Horní Heršpice
Czech Republic



| | |
| --- | --- |
| Tel: | +420 545 210 455 |
| Fax: | +420 226 013 984 |
| E-mail: | |
Branch Praha
Activair s.r.o.
Novodvorská 803/82
142 00 Praha 4 – Lhotka
Czech Republic



| | |
| --- | --- |
| Tel: | +420 222 362 288 |
| Fax: | +420 226 013 984 |
| E-mail: | |
Slovakia
Activair SK s.r.o.
Cementarenska cesta 16
974 01 Banska Bystrica
Slovakia



| | |
| --- | --- |
| Tel: | +421 948 422 022 |
| Fax: | +420 226 013 984 |
| E-mail: | |
HC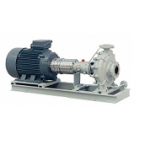 Centrifugal process pumps according to ISO 2858/ISO 5199 norms
Description
HC pumps are designed and manufactured according to ISO 5199 - ISO 2858 Norms and therefore suitable for process applications in the chemical industry as well as heavy duty general services in all the industrial fields.
Designed to operate at both 50 and 60 Hz, with temperatures ranging from -40°C to +350°C, these pumps grant extreme reliability, excellent interchangeability, easy access to inner components and minimum maintenance.
The casing is radially split, with end suction and top discharge nozzles; hydraulic axial thrust is balanced by means of back wear rings and balancing holes at the impeller's eye.
A wide choice of hydraulics is available to optimize pump selection at any design point, thus reducing the operating costs.
A sturdy and deep stuffing box allows to fit single or double, either conventional or catridge design mechanical seals.
Rotors are generously sized to work at rotating speeds up to 3600 rpm.
Bearings are oil lubricated: bearing brackets feature oil level gauge and constant level oiler as standard.
HC Pumps can be manufactured in any material combination depending on actual conditions of service and provide a series of construction features such as heating/cooling chambers on the pump casing and/or stuffing box and flanges rating according to DIN, ANSI or other applicable standards.
Semi-open impeller design (SO version) available in all HC sizes covers several applications in the food, chemical and steel industries wherever charged liquids or suspended solids are involved.